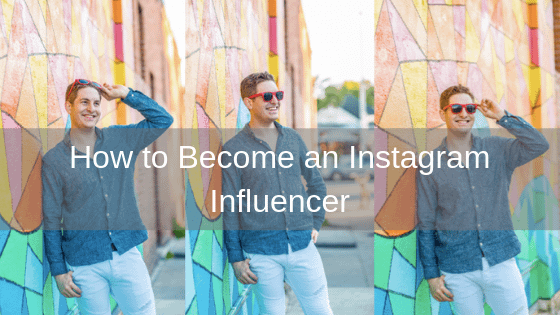 12 Jul

How to Become an Instagram Influencer

You want to become an Instagram Influencer, awesome! Can we stop and laugh a bit at the absurdity that becoming an Instagram Influencer is a job? Will companies actually pay you to create content on Instagram? My what a world we live in!

Let's break down everything you need to do to become an Instagram influencer, I will show you exactly how to do it. Before we jump in, let's connect on Instagram and let me know that you read this article. psst… there is a reason why you will want to connect that I will tell you about by the end of this article.
How to Become an Instagram Influencer: What it Really Means
When I talk to people about my life, they laugh out loud when they hear I dress up as a unicorn and dance around like a silly person for people online. They usually say "do you really make money from this?" Most people think becoming an Instagram influencer means you play all day, sitting in coffee shops with no cares in the world.
This is NOT the truth at all, it is the farthest from the truth you can get. If you want to become an Instagram influencer, you must be ready to put the work in. This means running your Instagram account like a business and have a plan.
Why Do You Want to Become an Instagram Influencer?
Just like anything else in the world, there are various levels to influencer you can achieve. Before you jump in and stress out over the next few years, ask yourself why. Why do you want to "become an influencer?"
A solid 80% of the people I meet want to grow their following because they feel the number of followers and likes correlates with their self-worth. Somehow having more followers and more likes on the photos means that they are pretty, that they are popular, and that they matter.
NEWS FLASH: your follower count does NOT predicate your worth in this world. Seriously, do yourself a favor and sit with yourself. Work through your own mental bullshit around your own confidence and worth as a person. Your worth is only predicted by the effect you have on others.
Let's discuss the other 20% and why they want to grow their following. Generally, it breaks down into one or more of these reasons:
They want free products, vacations, etc.

They want to become more hireable in the marketplace

They want to start a business or be known in a space

They want to showcase their abilities as a creative director and get paid to post content
Knowing your end goal helps you build the right strategy and is the first step in how to become an Instagram influencer.
Instagram Influencer Strategy
If you want to become an Instagram influencer there are a couple of key things you have to master in your journey. In no particular order let me share with you what you need to do:
Find your niche

Create amazing Instagram content for that niche

Create a feed that resonates with the market

Grow your account in followers and engagement

Create a marketing funnel that drives an end result i.e youtube subs, Email subs, e-commerce sales, etc.

Build a community of people who love your content

Master the art of the pitch
Find your niche
Not gonna lie, as a personal brand, sometimes finding your niche is the hardest part of becoming an Instagram influencer. There are so many different ways you can go as a person that picking just one is nearly impossible.

For instance, I honestly have not found anyone in Instagram who does anything close to what I do. (if you find someone let me know)
That being said, you have to find a niche you want to play in. Knowing your niche helps you shape your overall content strategy and helps you build a community.
Are you a comedy channel? Then gifs, memes, and videos are the way to go.

Are you a fashionista? Highly stylized photo shoots is what you have to do.

Are you a photographer? Well, you gotta showcase your skills on Insta.

Mommy blogger? Photos of your baby won't do well by themselves. Create awesome family photo shoots to dominate Insta.
Become an Instagram Influencer by Creating Amazing Content
Content is the name of the game. Winning the content game is the fastest way to grow your account and become an Instagram influencer. For instance, let me share with you a few amazing accounts from a bunch of different niches.
Photographers and photoshop experts check out Ravi Vora
Mommy bloggers, check out StudioDIY and how awesome there new little one joined the mix.
Are you aspiring to be a model, check out my friend Liza Kei
Notice how each one of their shots is a beautiful work of art that you absolutely can fall in love with.
Those influencers take the time and energy and invest in their content. Having one or two great pieces of content isn't enough, you have to consistently create great content. Every piece of content builds into the overall feed.
Instagram Feeds Make or Break Instagram Influencers
When someone sees one of your photos, they may go check out your profile. If your entire profile is fun to engage with, you will attract people who want to follow you. If your feed is a hot mess, no one will want to follow you and engage further.
Check out each of those accounts mentioned and tell me what is consistent with their feeds. What trends do you see, what filters do they use? What can you learn from them and take to your Instagram account?
Become an Instagram Influencer by Growing your Following and Engagement
As a general rule of thumb, the amount of followers you have determines what level of influence you command. For instance, if you have 1,000-100,000 followers you fall into the category of micro influencer. More and more, brands have been turning to micro influencers and have been seeing phenomenal results.
If you are looking to get some free product in exchange for an Instagram post, you only need to grow your following to 10-20,000 followers.
If you are looking to get paid to post you must focus on building your following to the 30k mark and more. The reason you need so many followers to get paid to post is that there is too many people willing to post for free at the 10-20k mark.
As you grow you follow you can command more and more per post. I know a number of Instagram influencers who charge $1500 for a post, but they have 100k+ followers and great engagement.
If you want to grow your following, you should check out this Instagram training on how to grow your following to 10k.
To grow your Instagram engagement, you have to work on the content you produce and respond to all comments. Creating really great content generates a massive amount of engagement. For instance, this photo has already generated 2,000 likes and a whole ton of comments.
Create a Community on IG
Community management is the most time-consuming part of Instagram. Community management means, spending time responding to every comment on your Instagram account. I do mean every single comment, even those noticeably fake auto-comments.
You can't just respond to comments and leave a few likes on other people accounts. You 100% must spend time cultivating a community by talking to other people on their Instagram accounts. If you want to become an Instagram influence you have to actually cultivate influence.
Simply put, you have to show people you actually care about them for them to actually care about you. It is the law of reciprocity, give before asking.
Create the Right Instagram Marketing Funnel
Depending on what you want to achieve on Instagram as an influencer depends on your Instagram marketing funnel. For Instance, if you want to be contacted and given free product your marketing funnel is going to be simple. Just add your email into your Instagram bio and sooner or later someone will contact you.
If you are looking to get paid to post, you will have to do a bit more work. Adding your name in your bio is great, but you can up the chances of being contacted by taking the time to fill out your profile on a number of Instagram influencer platforms.
Here is a list of platforms that you can use:
https://www.socialcircle.media/
https://reelio.com/for-creators/
And there are a ton more. Spend a day or two and build out your profile on every single platform you can find. While it might be boring and time-consuming, it is like setting up multiple fishing lines in a giant lake. One of them will get you a bite. Pppst. I binged watched House of Cards as I spent the day filling out profiles.
Learn the Art of the Pitch
Learning to pitch yourself as a content creator isn't too difficult but really important if you want to turn this into a full-time business. I recommend starting on smaller brands and practicing various pitches on them in exchange for the free product first, then paid posts.
As you get bigger, you can move to more established brands and showcase what you can do. I also highly recommend pretending the brands that you work with are giving you $1000 for your post. Create the very best piece of content you can and blow them away with your abilities. Just make sure to use #ad and #sponsored in your Instagram posts.

Overall, if the steps to becoming an Instagram influencer aren't difficult or revolutionary. It takes time, energy, dedication, consistency, and a bit of luck. That being said, this is the exact strategy I use and how you too can become an Instagram influencer. Is there any other tips, tricks, or insights you can share?