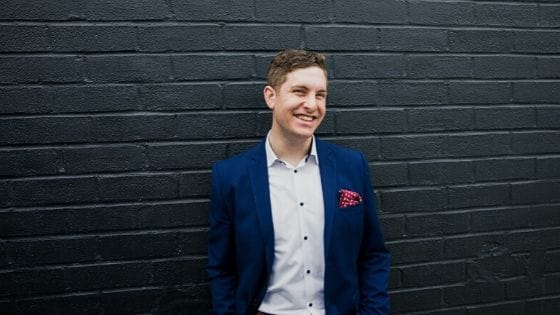 04 Jun

How to Build a Personal Brand on Social Media

When we think of massive personal brands who comes to mind? Dwayne The Rock Johnson, Gary Vaynerchuck, Kevin Hart? You don't have to be a massive celebrity to create a personal brand on social media. A personal brand is an expert in their field.

As an expert in your field, you're looking to landing more opportunities. You would love to command a price premium for your services and have leads come to you.

If we are going to build a personal brand on social media, we need to break through the noise of information. What exactly must you do to grow a personal brand? The most effective way to build a personal brand is to start local and build globally.  A local audience on social media would be the 25 square miles around Los Angeles California.
Building the Business of Attention
Before you do anything before you build a personal brand on social media. You have to be ready for the attention. Can you answer the following questions in a single sentence without using industry jargon? 
What are you selling?

Who are you selling this too?

What makes you unique/why should they choose you over the competition?
If you can't, then you don't have a business people can understand. As such, you won't be able to break through the noise of social media. You must nail down your value proposition, buyer persona, and differentiating factor before you build a personal brand on social media.
Using myself as an example:
"I teach personal brands how to use social media for the greatest exposure, leads, and opportunities while not spending all day online. Using social media I went from homeless to now having built my network to over 1 mil followers and have helped clients generate over 2 mil in revenue"
Build the Social Media Marketing Funnels
Marketing funnels are ooooh so sexy I know! I know every time you hear someone talking about them funnels and you can't help yourself.
Marketing funnels don't have to be complicated, they just need to work. For instance, my system for generating qualified leads is an online form and a series of emails.
First, anyone who wants to work with me is going to a contact form where I get some basic information. I use Typeform instead of a normal contact form as it allows me to customize it as I need. Check my Typeform out here. 
In my Typeform, I get the basic information I need.
An open forum for them to add relevant info
After the prospect fills out that info, I am sent an email and they're added to my CRM software. Where I have a series of templated emails that help me qualify leads further. Filling out a form doesn't qualify someone as a good lead. Not all leads are worth taking.
I share my pricing and packages, give testimonials and answer questions. Finally, I send the invoice and we start the work.
Simple, efficient, and it works.
Create Valuable Content to Create A Personal Brand On Social Media
What is valuable content for social media? If you take a look at any piece of viral content, you will notice a trend. Great content falls into one of three categories:
Entertaining

Educational

Inspirational/Aspirational
All viral content falls into one of those three categories at least and most fall into two or more. You don't need to rip out your hair to make valuable or viral worth content. Most personal brands are selling a service of some kind.
If you are selling a service like a public speaker, an author, or are a celebrity. The larger your following the more money you make. Speakers command price premium when events know the speaker will sell out the event for them.
Pro Tip: Personal brands who benefit the most from building a huge personal brand are:
Authors

Coaches

Motivational Speakers

Actors

Comedians

Celebrities

Experts

Entrepreneurs
Assuming you are in one of those professions, reverse engineer what people would need to know to hire you.
Start with the 5 w's, who, what, were, when, why, and build content around that.
Omnipresence The Secret to Building A Huge Personal Brand On Social Media
Back in 2010 the secret to winning in social media is being on a single platform and doing it well. While it is true it is better to be on a single platform well then be bad on all platforms. The secret to winning the social media game is being everywhere and doing it well.
That is because if you don't someone else will. (Trust me, I will dominate any niche you give me)
The secret to being omnipresence and is to become a content generation machine.
Take a single platform as your main content creation hub.
I pick blogging as it was the first platform I started on and is the one I can do well. You might want to make video your first platform.
Afterward, take that piece of content and re-skin it for each platform. Pull out your phone and turn that blog article into a horizontal video to upload on Youtube and Facebook. If you don't feel comfortable on camera, use a tool like lumen5.com to create a video out of your blog content.
Cut that video down into a 15-second clip, a 30-second clip, and a 60-second clip. Post those on your platforms as teasers or bumpers for the main piece of content. Pull out the major tips and turn them into a vertical image for Pinterest and Instagram stories.
Omnipresence takes time to implement… but you can speed up the process by creating a system and staying consistent in your execution. Not to mention the millions of tools online to help you with the process.
How to Leverage Tools to Build a Personal Brand On Social Media And Stay Consistent
There are a million and one tools to automate different aspects of social media. You would be an absolute fool not to use them to your fullest capacity. When you are looking at tools you have to test many different types and know why you are using certain tools. 
Pro tip: Use tools to automate repetitive actions but never humanistic actions. If you use tools wrong, you can damage your brand.

Here are the tools I recommend:
Managing Social Media: https://buffer.com/
Finding Images & Video: https://www.pexels.com/ & https://unsplash.com/
Creating Videos: Adobe Creative Cloud Suite
Learning Skills: Skillshare
Linkedin Outreach: Octopus CRM
Making Instagram Stories: Unfold
Transcribing Videos: Otter.ai
Turning Transcriptions Into Blog Articles: Fiverr or ContentCucumber
Habits Create Consistency
Being consistent on social media and in your personal branding can be hard. Not only does it take a tremendous amount of time and energy to create content around a niche. It also takes a while for those first few sales to start rolling in and making it worth your while.
Using social media to build your brand means you have to create easy to execute daily tasks. I will share with you an example of a daily task list that you may give to your marketing manager.
Create a piece of long-form content a day (Youtube video, blog article 2k words, etc.)

Create 3-5 micro pieces of content (Insta photos, tweets, TikToks)

Respond to all comments (usually takes an hour or two)

Leave 50 comments on other people's accounts

Leave 50 blog comments linking to articles
Does this take time? Sure it does! 
Creating a schedule of times and blocking out activities is important and effective. It allows you to be more productive and generate better results. Too often we fall into the rat race or reaction. We open emails and put out fires all day long.
Personal Brand on Social Media: Build Local Before Global
Targeting local in social media is a great way to maximize your resources to achieve giant gains. There is a lot more competition in the global market than the local market.
I'm going to share with you my exact strategy to generate leads, sales, and new opportunities. I live in Los Angeles California so I will be focusing on that area.
If I were to take a step back and look at my own marketing funnels I would notice two things. My biggest clients come from speaking opportunities. Most of my clients are personal brands and in a few different industries.
I would then set up two different but overlapping marketing funnels. The first would be a page for generating speaking opportunities.
The second would be social media to email series that generate leads and nurtures sales.
Public Speaking is the best way to get opportunities because every speaking opportunity:
Gets me paid before I even take the stage (don't speak for free if you are an expert)

Gives me an hour to give massive value, and sell myself as an expert

Showcases my expertise

Builds relationships with the audience fast!

Generates leads and sales via collecting email addresses.
Knowing all this, I can reverse engineer building my brand on social media. I start by looking on Meetup.com and Eventbrite to find local speaking opportunities. Yes, Meetup and Eventbrite social media.
I look at local events that I can speak at which also match my target demographic.
After I Identify a whole bunch of speaking opportunities I reach out to them via email. I see if there is an opportunity for me to speak.
There are a few occasions when I speak for free, but more often then not I stick to paid opportunities.
Next, I take a look at who is most likely to from me. For my business, I have a couple of main audiences. I work with personal brands who need to build their audience on social media. The more followers and bigger there brands are, the more money they generate. The clients I work with are:
Authors

Public Speakers

Celebrities

Actors

Professional Services Like Real Estate Agents

Social Media Influencers
On social media, I create content that my audience would want to consume.
PSSST… I use google keyword planner to determine what people are searching for. That information informs me of what type of content they want to watch.
I create a video such as "How to Market Yourself as a Public Speaker: Find, Land, and Get Paid To Speak"
I take that video and upload it to Facebook. I then turn that native Facebook video into an advertisement that I push to my market.
The targeting I use is anyone 18-45 interested in Public Speaking in a 25-30 mile radius of Los Angeles, California who have an interest in Public Speaking or Toastmasters International.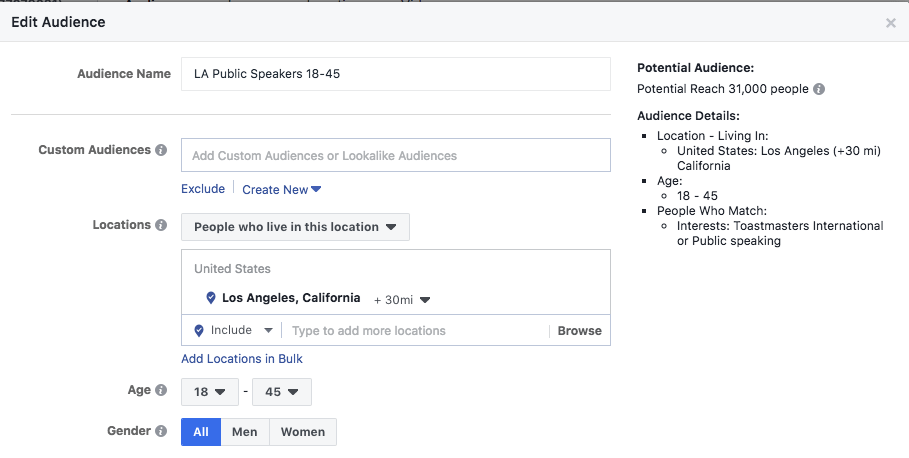 That would give me a target audience of 31,000 people. At 1 cents a view that would cost me only $310 to run the video in front of everyone. That would be a very cheap advertisement to run in front of my target audience. I want speakers to see how to market themselves online, and by proxy showcase my own expertise as a speaker.
I would follow that up with a couple of retargeting advertisements.
The first would be to get fellow speakers onto my email list to nurture those connections. I want those people to consume my content and hire me as a social media consultant.
The second retargeting ad would be towards generating me speaking gigs. A "look no further for your next public speaker" type of advertisement.
I wouldn't expect to generate hundreds of leads. There are not that many speaking opportunities after all. Instead if I could get a few qualified leads and follow up with them I could land a great speaking gig. (I would run a new ad with my sizzle reel)
I would continue to add video content around marketing, personal branding, and social media to my social media channels. Sharing knowledge and running advertisements to that audience. Generating massive awareness for my personal brand spending only pennies per view. All to an audience around Los Angeles California.
Not a bad strategy if I do says so myself. But, let me know if that strategy is something you can put in place yourself?
Take this information and reverse engineer what you need to do to build a personal brand on social media. If you are having trouble and need some help with your social media marketing, feel free to hire me. I would love to help you create a unique strategy that will generate you leads and opportunities.
Otherwise, have I missed anything that you would add? Leave your thoughts in the comments.