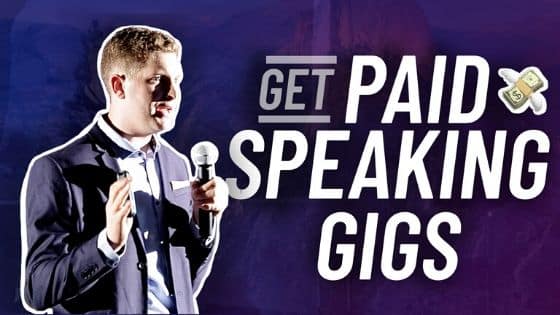 04 Oct

How To Win Speaking Opportunities 

Being a professional speaker isn't a pipe-dream, you absolutely can create a paid speaking career for yourself. In this I'll share with you how to win speaking opportunities easily and consistently.

Before we jump into the exact strategies you need to become a public speaker, make sure you are ready.

You'll want to find a place to practice in front of crowds. Get your business cards ready and other marketing material. Know who you are speaking too and what value you bring.

Simply, if you desire to build a career as a public speaker you need to take this seriously.
How To Win Speaking Opportunities: Start With Free
If you are brand new to public speaking and haven't spoken to large crowds, this is the best place to start. Free speaking opportunities are abundant as there are always organizations looking for experts. Speaking for free is a great way to build your comfort speaking, build a brand, and get footage for your speaking reel.

To land your first public speaking opportunity use Meetup and Eventbrite.
Meetup.com and EventBrite Strategy
Go onto Meetup and Eventbrite and run a search for every event in your area that you may be interested in speaking at. Especially look at events that are held on a regular basis. Once you've identified a list of potential speaking opportunities, reach out to the event organizer and pitch.

Here is my public speaking pitch template
Hey (name)

My name is Austin Iuliano, I see that you are the event organizer for (meetup/eventbrite group). I'm an expert in social media marketing and viral content expert who's been featured on Forbes, business insider, business.com, and more. 
I'd love to come and give a talk. Below are some examples of topics I've spoken about in the past:
How To Dominate On Camera and Create a Charismatic Brand Online From One of The Fastest Growing Live Stream Influencers
10 Mistakes You are Making in Social Media and how to avoid it
How to Growth Hack Your Social Media Content and Create Viral Content
I have a massive network of over 100,000 I can invite to the event. You can reach me at austiniuliano @ gmail (dot)com or 555-555-5555 
Once you send that out, go hop onto Twitter and Tweet them at the same time and let them know you messaged them. About 1 in 4 will get back to you and you've just landed your first public speaking opportunity.
What To Do After Your First Speaking Gig
Take a second to celebrate, then get to work. Landing the gig and giving a great talk is just the first step. Free speaking gigs can do a lot for you. To maximize this opportunity use this to get 
Photos to use in your marketing materials

Footage to use in your speaking reel

Testimonials from Event organizers

Testimonials from the audience

New business and leads

Even paid speaking gigs
Ask a friend or hire a professional to grab photos and video of you speaking. When you are up on stage make sure you add a soft pitch to work with you. This is as simple as a slide that says "work with me"
Then what I say is a simple "after this event, if you are interested in working with me I'm always looking for more speaking gigs, but I do lead generation and social media consulting. Feel free to come chat with me afterwards."

A lot of times decision makers, conference organizers and event planners will be at these events. 
When the event is done, ask everyone for a testimonial about your talk. Grab your phone and record them. You can use those videos on your public speaker page. 
How To Land Your First Paid Speaking Engagement
Good news, if you've landed a few free speaking opportunities you've done roughly 90% of the work. These speaking opportunities are a perfect place to collect photos, videos, and testimonials. Make sure all those great pieces of marketing are all in one place and start pitching for more speaking opportunities. I suggest a page on your website dedicated to hiring you as a public speaker.
Create a list of every keynote speaker in your niche (or 3-5 of them) and find out all the conferences and corporate events they are speaking at.
These conferences are corporate events hire keynote speakers and this means they will hire you too.

Reach out and pitch to them.
How to Build a 6 Figure Network
If you have spent time networking with event organizers the next part is easy. Ask them to pass you around as an expert speaker, and this can generate you a ton of business. Many of the top speakers I personally know have built their entire careers being passed around from one event to another.

But let's assume for a second you don't have a massive network that you can leverage. How you build this 6 figure network is simple. You become an invaluable resource for the people organizing events..

Event organizers are always looking for one thing. More exposure to their event. If an event can get a ton of press, the tickets are more likely to sell out. If the tickets sell out the event organizer has one less massive problem on their hands.

Pro Tip: If you can show an event organizer you can sell out tickets they are going to want to hire you to speak.

Become your own mini press agency, by being a guest contributor on an authority site. Once you have that ability, you can usually get a free press pass to the event. While covering the event for the outlet, you also can spend some time networking with those coveted event organizers.
Once you have built that network then work on building a speaking career.
6 Ways To Get Paid To Speak
Finally let's look at the 6 different ways you can get paid to speak. The more systems you have set up the more money you can make in your public speaking career. 
Those 6 ways to get paid to speak are:
Paid Keynote Speaking

Selling Book or Course In Bulk

% of Every Ticket Sold

Selling On Stage

Generating Leads For Service/Business

Holding Workshops
If you are interested in learning more about this subject here is a video:
Overall this is everything you need to know to become a public speaker. Let me know if I missed anything or if there was something particularly helpful.